Today, Kask unveiled a new brand Road bike helmet which she says will revolutionize cycling as we know it. It's called the Elemento, and it uses carbon fiber panels to replace EPS foam, and the same 3D printing technology found on top of Fizik's saddles and customized for its pads. It's a new addition to the Kask lineup, and it boasts a five-star Virginia Tech rating.
With the introduction of multiple new styles, Elemento certainly seems like a technological step forward, and it's no surprise that the price reflects that. At £335 / €375 / $400, it's the most expensive road helmet we've seen yet, and when asked about it, Kask was quick to point out that it's aimed at "elite athletes competing in the world's best road, cross-country, cyclocross and gravel events, as well as To cyclists driven by the pursuit of ultimate performance."
Its development began at the Ineos Grenadiers Training Camp Hotel in Mallorca, 2019, with a meeting called "New Protone". However, Kask says it soon became a much larger project that sought to create something that was not just a repetition of an earlier success, but a revolutionary product in its own right. They are very confident about the outcome, said product manager Luca Fiano cycling news "In the coming years, everything you see will collect something from Elemento."
Although it launched today, Elemento has actually been in the public eye for quite some time. That was in the beginning Spotted on the heads of Ineos Grenadiers 10 months ago the 2022 Tour de France, but it has been postponed due to the same supply chain issues that have plagued much of the cycling industry lately.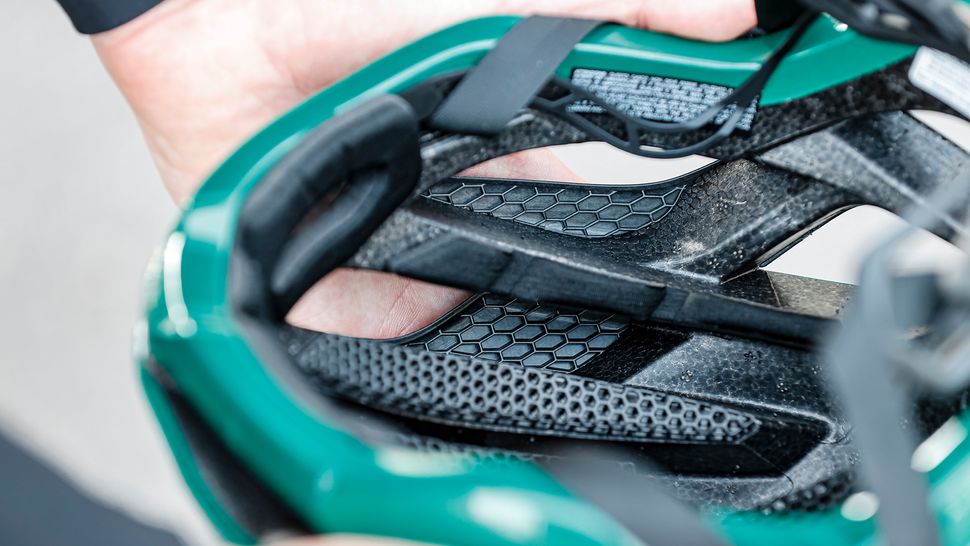 new technologies
Two major innovations underpin the new helmet design. The first of these is a technology Kask calls Fluid Carbon 12, which is described as a "composite technical polymer that is able to absorb more energy from impact from impact than conventional materials, and then be able to distribute that force more evenly across the helmet."
Specifically, it is a series of carbon composite panels that are used in place of the EPS (Expanded Polystyrene) foam found in the helmet. Together, they make a shell not unlike tectonic plates. They are held together by joints that enable them to move, thus absorbing and sharing forces from impacts.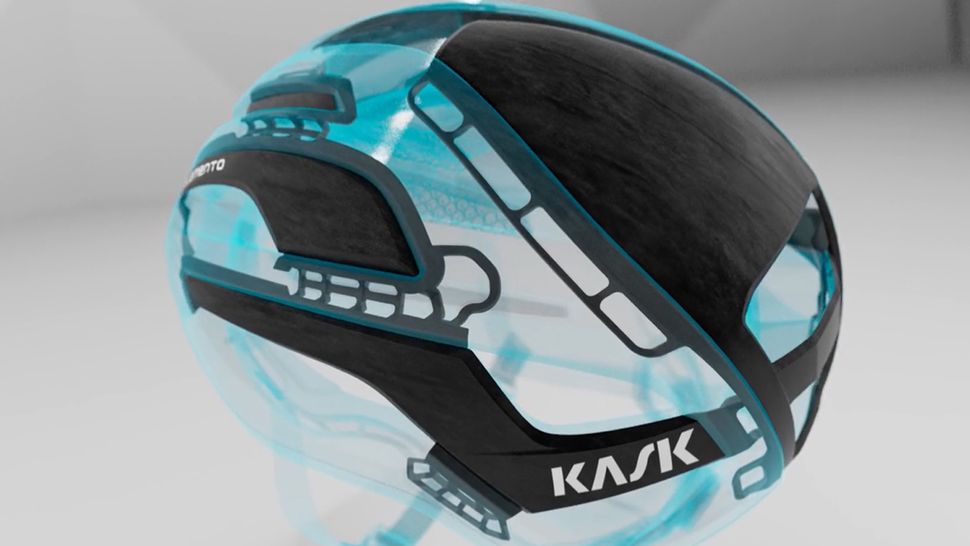 The thickness of these sheets is only 1 mm. With the thickness of the EPS foam typically in the range of 25-30mm, this opened up the interior of the helmet and created larger internal air channels, allowing it to move air – and thus heat – more quickly. This has allowed the Kask to maintain better ventilation with smaller vents up front, which in turn means better aerodynamic performance as well. Kask says the primary motivation for using this technology wasn't necessarily performance, but security, and that the performance gain was a happy coincidence.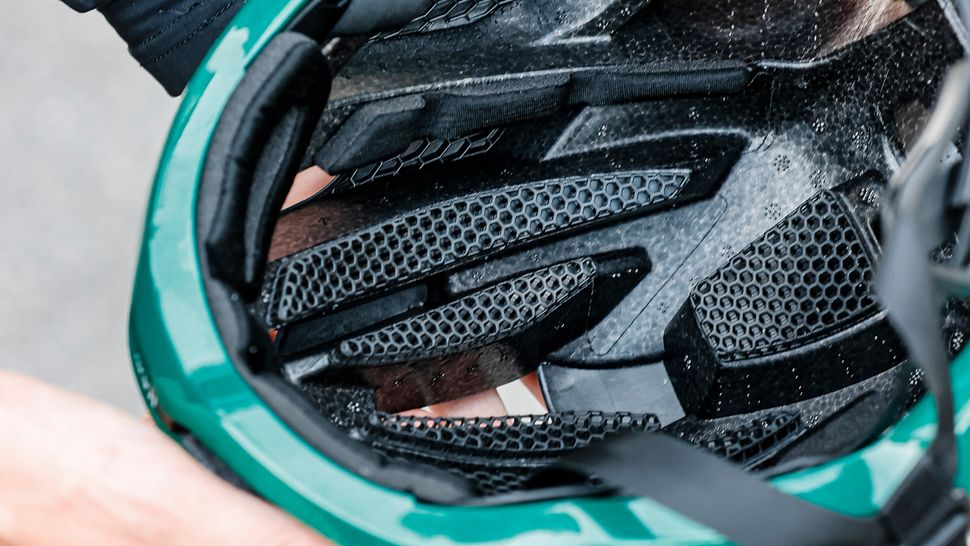 The Italian brand has doubled down on safety while also introducing its second new technology. It's called the Multipod, and it's better known to you and me as the 3D printed padding used in Specialized and Fizik saddles. Kask used the same California-based company, Carbon, whose additive manufacturing technology was tuned to fabricate the digital light with a rigid outer surface and a low-density middle that ensures shear motion upon impact, helping to reduce rotational impact forces.
Safety claims
Overall, Kask says the primary key driver behind the Elemento is safety, and by its own standards, it's improved, and has passed its internal WG11 testing procedure, which it says is more comprehensive than industry standards.
Kask, which claims to work closely with Virginia Tech's independent helmet-testing facility on its testing methods, has previously only submitted one of its helmets for testing. This was Valegro, which received 19.57 points out of five stars. The item was also put to the test, receiving a five-star score of 11.90. For context, the best score obtained so far is the Giro Aries Spherical with an 8.40.
In addition, in order to pass the European EN-1078 helmet standards test, the sensors in the head shape cannot exceed 250 grams of the accelerating force upon impact. For the US CPSC test, it is 300g. Kask says the Protone Icon, Utopia Y, and Valegro are in the 90 to 110 G range, while the Elemento is closer to 80 G of strength. Of course, this is just a linear effect, so it has no direct relevance to the type of impact you might experience in a crash, but smaller numbers are never bad in that regard.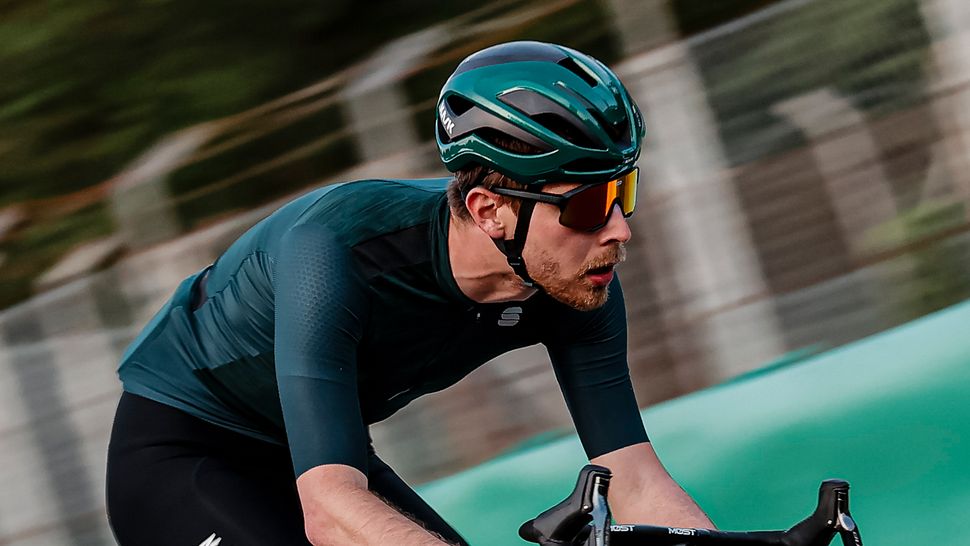 performance claims
In terms of where the helmets are in the Kask range, they are best described as "Protone Premium." Aerodynamically, Kask points to a fairly big wind tunnel advantage of lowering the CDA by 1.5% for a "full body in riding position." This compares to the Protone Icon (which launched last year as a replacement for the original), as well as unnamed competitors. According to Kask's contract aerodynamicist Luca Oggiano, who happens to be the chief aerodynamicist for Ineos Grenadiers, that equates to about 5-10 watts at 45 km/h. At the same time, Kask says it's 0.26°C cooler.
Despite an overall improvement over Protone Icon, Kask is keen to reiterate that Elemento is not here to replace it. The Protone Icon will remain in the lineup, but is now rated as the "affordable" all-around performer; Somewhat sad considering its £245.00 / $299.00 price tag.
However, Kask also admitted that the Elemento is not in a league of its own, noting that the Valegro is still better ventilated and the Utopia Y is still more aerodynamic. So if you ever find yourself in the market for a new helmet, the Elemento isn't necessarily a no-brainer. If racing performance (setting aside increased safety for a second) is an important consideration, you can get better performance elsewhere in the Kask range, while also offering significant price savings.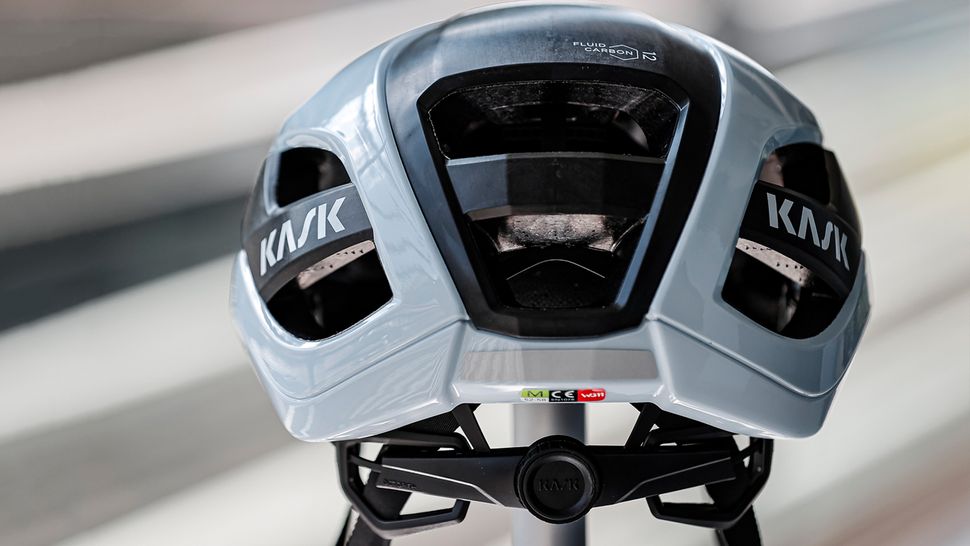 Price and availability
The Elemento comes in a variety of colors, including black, white, beetle green, Oxford blue, red, and silver. The medium-sized helmet weighs 260 grams and has a price tag of €375.00, £335, $400.00 and AU$650.
#Kasks #Elemento #road #helmet #expensive #weve